At the end of the Summer lavender plants are ready for pruning. I always dry the lavender buds to keep their lovely scent in my house.
Lavender pruning
It is best to prune your lavender twice a year. After flowering, in September, you can prune the plant into shape, removing the flowers and leaving a nice sphere shaped plant for Winter. In the Spring after the frost, around the end of March or the beginning of April, you come back and prune the lavender further down. That is when you prune until just above the dead wood.
Drying lavender
The pruning in September is also lavender harvesting time for me. Although lavender is usually harvested just before it is fully in bloom, to preserve as much of its color and scent as possilbe, I love my blooming garden and refuse to cut the flowers at this early stage. I just use the old flowers that are already quite dry and dry them further. The fragrance is probably less strong this way, but I still enjoy the scent and it lasts a long time. I let the lavender dry for a few weeks in my shed and then use the dried lavender buds to fill crocheted sachets. Since these sachets are not transparent, I don't need fibrant colored flowers anyway.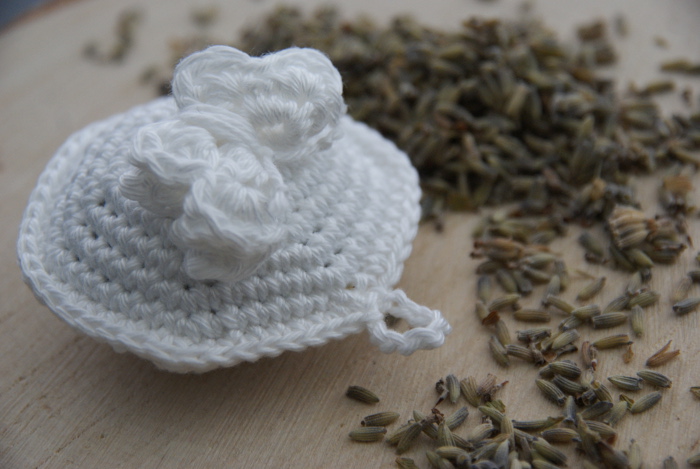 Making lavender Sachets
When the lavender buds are dried nicely, you can put them into little sachets to keep the scent around for months. You could sew your own sachets out of beautiful fabric, but you can also make them out of yarn. I like to make what I call lavender medallions that I stuff tightly with dried lavender. I add a tiny loop so I can hang them on a clothes hanger in my closet.
You can find the pattern for making lavender medallions here.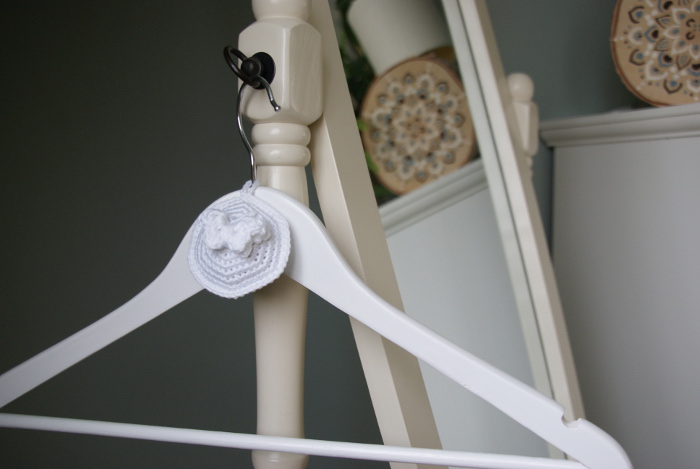 Potpourri
If you don't have a lavender plant to harvest, dried lavender buds are also for sale. Or you could use some potpourri instead.
I hope you enjoy making scented lavender sachets as much as I do. Let's preserve some Summer in our homes this way!